Helix Bar Review by AccessLexSM focuses on engagement, efficiency, and effectiveness of study as the key elements for your bar preparation period. Serving up content and practice in a deliberate progression from day one — Helix puts a premium on every minute of study to maximize strategic and intentional activity.

Helix UBESM is an online course with all the resources you need to pass the Uniform Bar Exam. Helix UBE opens 20 weeks before the bar exam and covers the Multistate Bar Exam (MBE), Multistate Essay Exam (MEE), and Multistate Performance Test (MPT). The course includes NCBE-licensed practice questions for the MBE, MEE and MPT, Helix-developed NCBE-like MBE questions, Building Block Quizzes testing black letter law, outlines, videos, diagnostics and practice exams, grading opportunities, a suite of grading tools including Issue Highlights and grading grids, online flashcards, the Helix Game Center, Helix Pass Classes for the MBE, MEE and MPT, webinars and workshops, and more. Helix UBE also includes the Helix UBE Book Bundle for offline study.

Helix MBESM is an entirely online course for the Multistate Bar Exam (MBE), the multiple-choice component of most state bar exams. Helix MBE opens 30 weeks before the bar exam and includes 1650 practice questions and explanations, short videos, practice exams, flashcards, the Helix Game Center, and the Helix MBE Pass Class.

Helix MPRESM is an entirely online course for the Multistate Professional Responsibility Exam (MPRE). It includes a comprehensive MPRE outline, videos, multiple-choice practice questions, and practice exams (including explanations) for all of the topics tested on the MPRE. The Helix MPRE course is available free of charge.

Digital flashcards are a built-in component of Helix UBE and Helix MBE. But for those who prefer printed materials, Helix Flashcard Sets are available to help you learn, memorize, recall and reinforce key bar exam terms and concepts. Flashcards are available in both UBE and MBE-only options.
According to research on learning, the attention span of an adult is 10-15 minutes — and getting shorter all the time! For that reason, Helix videos are intentionally created to engage the viewer, while covering short, targeted sections of the law. Nearly all Helix videos are between 5 to 7-minutes in length and all Helix courses contain these consise, impactful tools. Now that's getting right to the point!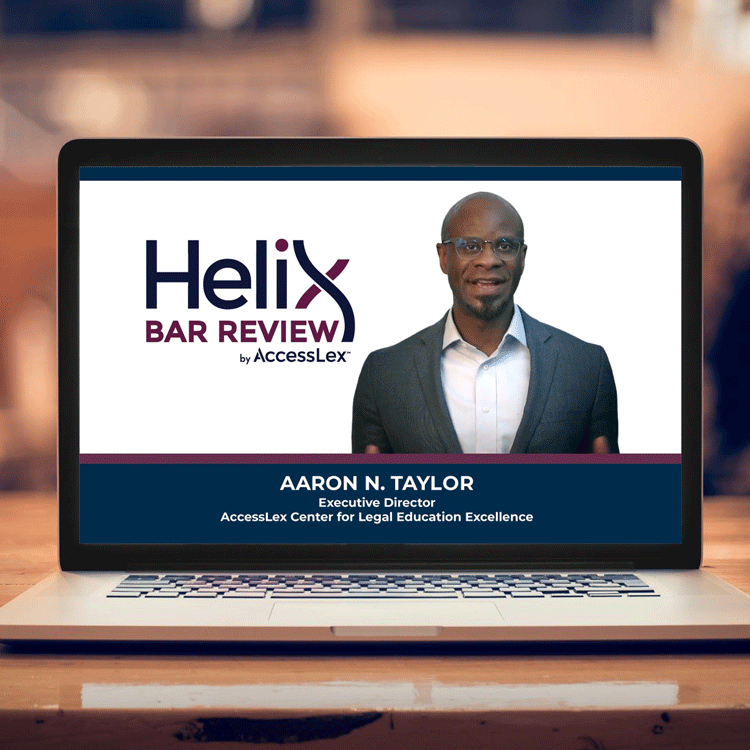 Helix UBE's live webinars and workshops are available throughout the course — you choose what works for you. Offered to provide supplemental skills-based instruction at critical and appropriate points within the course, and to tackle commonly asked questions, Helix UBE webinars and workshops provide insight into information most frequently requested by bar students.
 
Additionally, Helix offers a Pass Class on all three components of the UBE. Helix Pass Classes, offered three times per year and available to anyone who has purchased Helix UBE, are the perfect kickstart to bar review.
The Helix UBE Book Bundle is a carefully curated five-book set that includes two comprehensive outline books for MBE and MEE subjects, complete with valuable checklists and steps to help you analyze complex issues. The MEE and MPT Practice Questions Book includes MEE and MPT practice questions, along with Helix Issue Highlights to help with self-review and evaluation. The Practice Tests and Simulated Exam Book allows you to simulate paper and pencil exam-like conditions during your studies. It contains MBE mixed-subject practice tests, materials for your MEE and MPT graded opportunities, and a full UBE simulation. And the Helix Essentials Book contains condensed outlines for every subject on the MEE and MBE. These Helix Core Concepts are formatted to help you focus your learning and memorization on the most frequently tested topics. Let Helix Essentials be your go-to resource as you progress through Helix UBE.
 
Note: All print materials are also available online in your Helix UBE Course for easy access and search navigation.