By: Gianna Della Sera, Esq., Guest Blogger
2022 J.D. Graduate from UNT Dallas College of Law
I was one of the first law students to use Helix Bar Review for the UBE in Texas and let me tell you it DID NOT disappoint."

Gianna Della Sera, Esq.
2022 J.D. Graduate
UNT Dallas College of Law
As some close people to me know, I was dealing with my own medical issues during my last year of law school that did not dissipate in the slightest while studying for the bar. Additionally, I've grown up with ADHD and the medical issues affected my ability to concentrate even more than usual, but I was determined to pass the UBE the first time. However, because of my medical issues and my ADHD, I was a bit apprehensive in choosing which bar prep program would be right for me and my needs. I wanted to be sure that I chose a program that adhered to my needs and made it easier for me to keep up with and to understand the material.
Enter Helix Bar Review. I heard about Helix in my last year of law school when I became an AccessLex Champion. I was intrigued by the program because it involved an actual NCBE program director assisting with the development of the program – and it included games! I also liked that its approach was helpful for neuro-divergent students. This means that the videos were created in smaller segments and the program was interactive which helps keep students focused on the material. I found this to be extremely helpful to my concentration. Everything was easy to follow along with despite my medical issues. I was also able to start bar prep in April, which allowed me to kill two birds with one stone because it prepared me for some of my law school finals.
Additionally, I enjoyed how responsive and knowledgeable the Helix Team was to my many questions! If I was confused on a question, or if I did not understand a certain topic or concept, or if I just wanted to vent, the Helix Team was there for me when I needed it.
Helix Bar Review has coaching calls that every student can utilize. This exam is one of the more stressful tests that I have taken and using the coaching calls to manage my stress and worries about the bar really helped to ground me. One of the main aspects I liked about the coaching calls was that that you spoke to real people who were once in your shoes and they give you sound, honest advice about the exam and where you are in your progress. As the exam date got closer, I was getting more and more nervous, and it helped to have someone else's perspective keeping me afloat and on track to finish the course.
One of the many ways I relieved my anxiety was playing in the Helix Game Center. This is probably the only bar prep course that I have heard of that actually has games you can play where you can relax, but also still learn what you need to know for the bar. This was something that really engaged my focus and kind of brought out my competitive side because I was able to see the leaderboards, which was pretty cool. Additionally, Helix has daily goals for you to meet, which made it easier on me to reach my goals and see progress.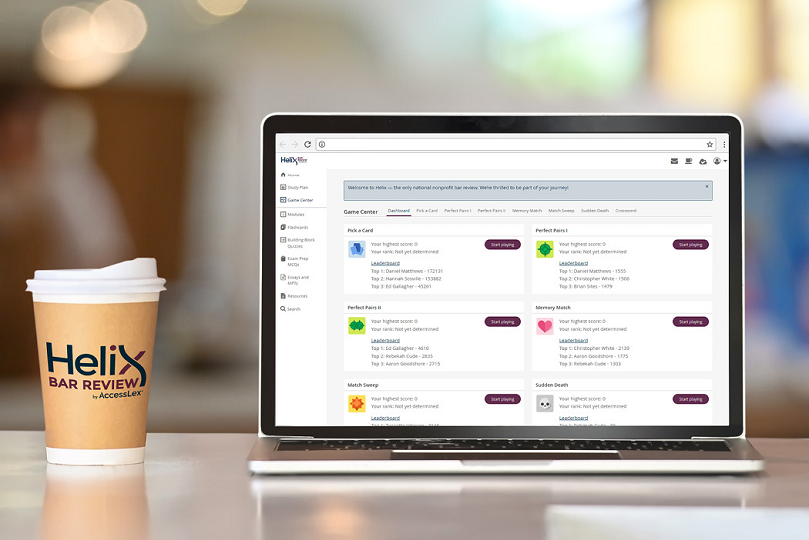 Another way I destressed was going out with my friends here and there when I could. I did not do this all the time, but there were some days where I just knew I was not up for studying. I cannot say this enough, but LISTEN to your body and take care of yourself because as I said before, this is not an easy test. Go out every once in a while, take a break (or a few) to reboot even if it's just an hour. Or take a whole day off and get some sun and exercise. Do something else to give your mind a break and then hop right back on that horse and finish.
I am happy to report that I passed the UBE the first time with a score that allows me to be eligible to practice in any UBE jurisdiction. It is such an unbelievable feeling to know and see that my hard work paid off.
All in all, I enjoyed the feedback that I was given and the support and understanding from everyone throughout the process. I am so glad that I trusted myself and used Helix Bar Review for the UBE.